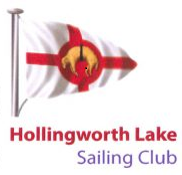 Hollingworth Lake Sailing Club in Littleborough near Rochdale is a family friendly club and RYA Approved Training Centre for beginners and experienced sailors of all ages. Conveniently located in the foothills of the Pennines this 117 acre lake is less than 3 miles from the M62 and boasts fantastic views as well as a great sailing area ideal for training, recreational sailing and racing.
We have active fleets in GP14s, Solos, Toppers, Laser and Merlin Rockets with many other classes represented in our handicap racing and general sailing. Our Sailing programme runs from March to December with a active social programme all year round.
NOW ENGLAND'S COVID LOCKDOWN IS LIFTED WE CAN AGAIN GO SAILING / RACING FOR THE NEXT THREE WEEKS
Now that England's Covid lockdown has been lifted we can go sailing again. There are still restrictions but, at least, the sport can be enjoyed again.
I would ask that members follow all the guidelines that have been produced and are still displayed in the clubhouse. They are there for everyone's protection. Keeping safe will ensure we can all enjoy the festive season.
Sailing / Racing will take place on 6th, 13th and 20th December starting at 12.30pm.
First an appeal. There is a need for an OOD for 6th. All other dates are covered.
Guidance for indoor spaces is still being sought. In the meantime the Club carries on as below.
1. There is unrestricted access to the dinghy park but "groups of 6" should be observed.
2. Buddy sailing can continue as agreed earlier in the year.
3. Single handed & double handed sailing can continue as agreed earlier in the year.
4. The Starters' Box may be used but with a maximum of two members socially distanced.
5. The disabled toilet will be open.
6. The changing rooms are for emergency use only. Come changed for sailing.
7. The Bar & Main Clubroom will remain closed.
8. Members must sign in as before.
9. Wearing of masks is not mandatory but at the discretion of the member. Please remember they are worn to protect others especially if you have a cold.
A reminder – now that the Club is open for the next three Sundays the return of trophies would be appreciated.
Stay safe and enjoy the sailing,
Richard (Commodore)
IN NORMAL TIMES……..
In normal times, we hold three races on Sunday afternoons from the beginning of March through to the middle of December and during the summer months we also race on Wednesday evenings. Our Wednesday evening sailing is a welcome break in the work week and often has bigger fleets than those on Sunday.
Members can go out for an informal social sail on Sunday afternoons and Wednesday evenings. It's not compulsory that you have to join in the club racing and at these times there will be patrol boats around plus there's the benefit of chatting to our members for a 'bit of advice'. You will find they are always happy to help you.
We also run 'Friendly Friday' sessions in the summer months which is the ideal opportunity for any club member, however inexperienced, to just go out and have a sail. One to one instruction can be arranged or just come along and have an informal & relaxed sail.
If you have any queries or want some further specific details then please contact us by sending an e-mail to membership@hlsc.org.uk and we will get back to you.