HLSC welcomes complete beginners to experienced sailors. Dinghy sailing takes place on a 117 acre reservoir set in the foothills of the Pennines in Littleborough near Rochdale and is easily accessible; just 10 minutes from the M62, junction 21.
HLSC is run by its members for its members with a great family atmosphere, has good fleet racing, is committed to training & developing sailing skills and is an accredited RYA Training Centre.
Click here to

keep up to date with all our latest postings and then 'Like' our Facebook page.
———————————————-
Merlin Rocket Open Meeting:

Saturday 8th & Sunday 9th October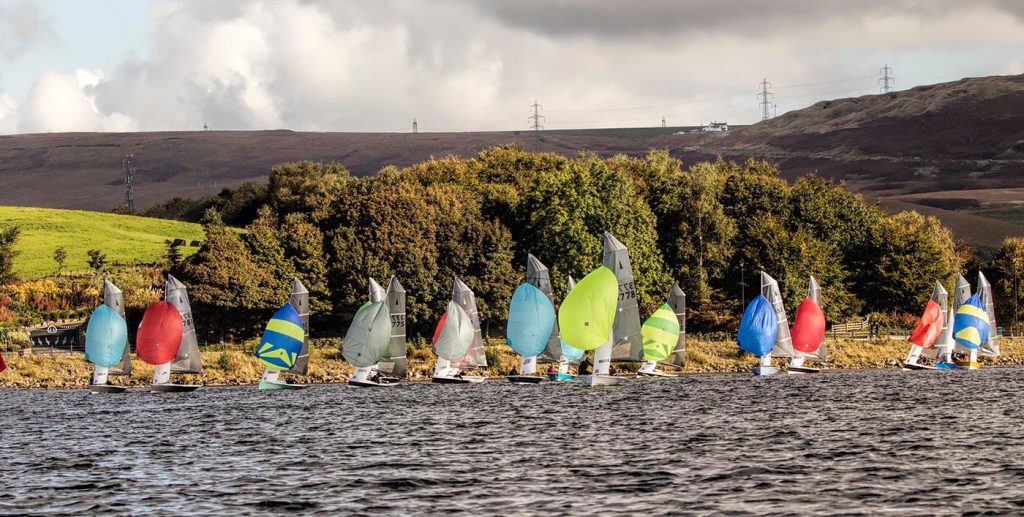 Photographs kindly provided by Martin Henfield
Chris Gould and Chris Kilsby were the clear winners of the Felucca Trophy on its 60th anniversary, while the Club and the MROA celebrate their respective 70th anniversaries.   Thanks to sponsorship from Craftinsure (and their support of the Silver Tiller, raced on Sunday) there were also spot prizes to be won.
The forecast for the weekend had indicated steady north east winds between 8 and 12 mph.  In reality, it was not as stable as that!  There was plenty of bright sunshine and, usually, an easterly wind at Hollingworth Lake can be stronger than expected.  At least it meant that a maximum length beat could be set.  That Saturday's two races were started without a black flag was a pleasant surprise with a fleet of 19 competitive Merlins.  Last year's winner, Caroline Croft, with Beka Jones, found the way to lead the first race only to find sisterly pairing of Jen Dodds and Pippa Taylor getting a better starboard lift to catch them, and take the lead to the finish with the Chris team following, ahead of Andy 'Taxi' Davies and Chris Dodds.
A change of course for the second race and this time it was Taxi and Chris Dodds who found the way to lead, followed by David and Oliver Winder.  Behind, there was some place changing with Caroline Croft gaining third place and Richad Whitworth, with Sally Townend, expected to have enough local knowledge from his past time here to benefit his chances.  At this stage, it was looking as if any one of 7 boats could take the event.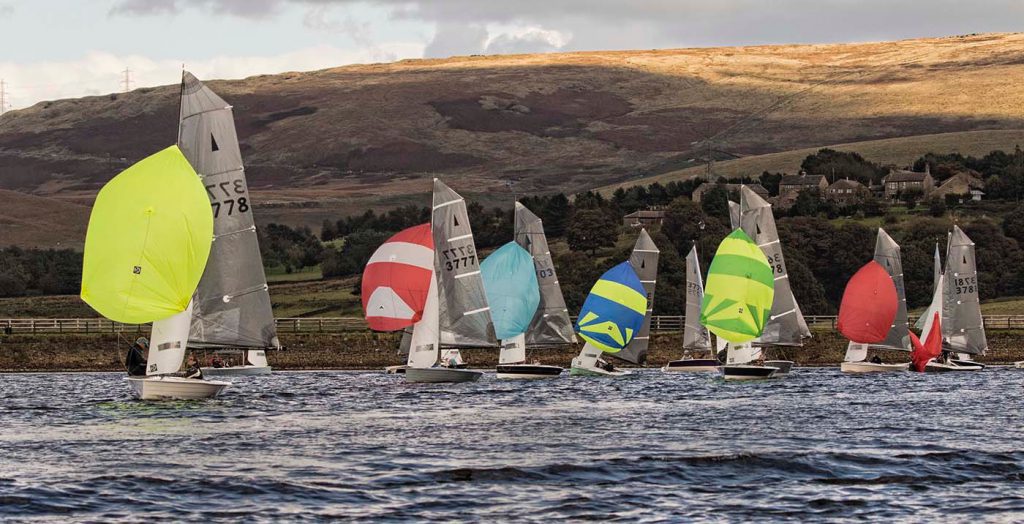 The evening witnessed the usual social and excellent Felucca dinner served by club members.  However, there did not seem to be too many sore heads on the Sunday morning.  That day's racing was for the Silver Tiller series.  Again, the first race got away clean and no black flag.  While the Chris team were off and away, Richard Whitworth knew where to start on the line at the leeward end and hold for a port lift which brought him into second place ahead of Taxi and the sisters.  While the Chris team built up a 2 minute lead the 3 boats behind jostled closely for their places.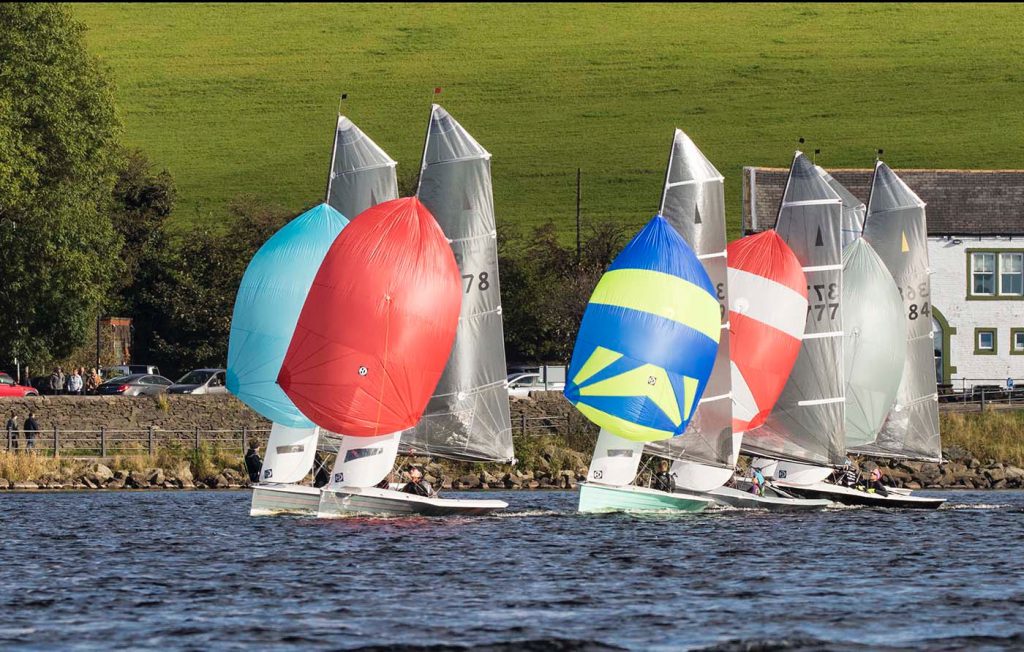 After a good lunch, the final two races were sailed back-to-back.  The first start resulted in a recall and the black flag at last, with one boat clearly over.  Again the Chris team showed the way, except on the second lap, Simon Potts and Ally Martin were on form and briefly took the lead, only to sail off in the hope of a port lift to the windward mark which failed to materialise, losing out to the Chris team and the sisters.
The clouds passing over were unsettling the wind direction more for the final race.  The black flag did not hold back the fleet enough.  Julian Parry and son Evan were fortunate to round the windward mark ahead as the wind died away and calm descended as others struggled to keep moving.  A roguish black cloud took the wind into the south-east and the race got underway again, but the Parrys were too far ahead to be challenged while Caroline Croft sailed steadily in second, with the Chris team keeping going in third.  So Chris Gould and Chris Kilsby won the overall event and the Silver Tiller result, while behind places were closely fought in the following six results.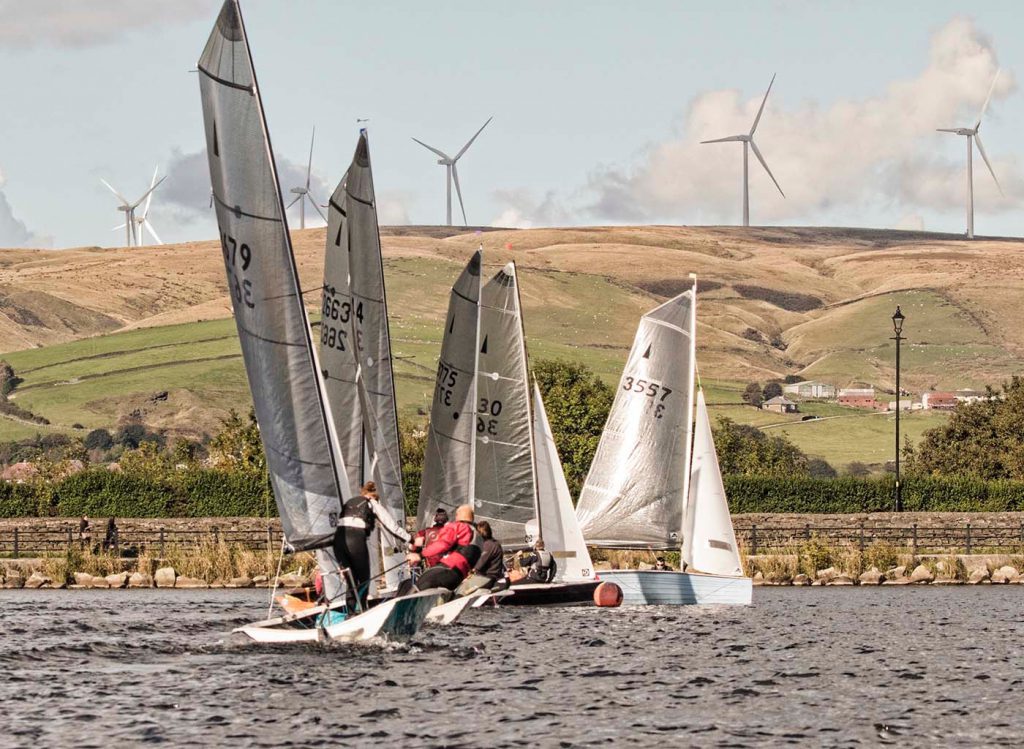 ———————————————-
 Latest Sailing News
Sunday 2nd October 2016
There could scarcely have been a greater contrast for sailors on Sunday after the squalls of the previous Sunday's racing.
At first it seemed that there would be a good easterly breeze for tactical sailing. It soon played tricks by changing direction and disappearing.
All 3 races were shortened.
The 8 Merlin Rockets out were testing their skills in preparation for next weekend's Felucca Trophy races. The results were very mixed with Steve Crook and Sally Townend taking the first race and Julian and Evan Parry the second one. All started the third race and, finding the wind easing away, left Les Bithell with Jan MacNeill and Martin and Rene Watts battle it out.
The GP14s attracted some of the novice racers to have a go, though Colin Knott and Richard Long were easy winners.
Merlin Rocket:
Race 1: 1.S Crook/S Townend 2.N & L Heginbotham 3.G & O Winder
Race 2: 1.J & E Parry 2.M & R Watts 3.O Whitehead/E Turner
Race 3: 1.L Bithell/J MacNeill 2.M & R Watts
GP14:
Race 1: 1.C Knott/R Long 2.H Daniel/C Nicholls 3.M Ahmed/B Mager
Race 2: 1.C Knott/R Long 2.L Burns/R Hodgson 3.M Ahmed/B Mager
Race 3: 1.H Daniel/C Nicholls 2.L Burns/R Hodgson
Solo:
Race 1: 1.N Brook 2.M Brennan 3.N Davey
Race 2: 1.M Brennan 2.A Din 3.G Booth
Laser:
Race 1: 1.A Din
Race 2: 1.R Din
———————————————-
Sunday 25th September – Club Championships
It is not uncommon for gales around the time of the equinox and all seemed fine as boats set out to compete for the Club Championship. It was breezy but good racing conditions. All the different classes started together and raced on a handicap basis, also divided into Gold, Silver and Bronze leagues. Two Merlin Rockets led the way in the first race with a GP14 finishing in third place. Steve Crook and Sally Townend continued to master the conditions in the second race with Nick Brook in a Solo revelling in the strengthening wind. By the third race squalls would make an impact. Depending on which leg of the race boats were on could determine survival or a capsize. There was no time to admire the rainbows as half the fleet turned over! Nick Brook won the last race, ahead of the Merlins of Steve Crook and Nick Heginbotham with Jane Clayton.
Gold Fleet-
1. S Crook/S Townend (MR)
2. N Brook (Solo)
3. N Heginbotham/J Clayton (MR)
Silver Fleet-
1. B Mager/C Jowett (MR)
2. D Smith (Solo)
3. E Parry (Laser 4.7)
Bronze Fleet-
1. S McGarry (Solo)
———————————————-
Sunday 18th September
The main event for Club sailors over the weekend was participation in the annual 24 Hour Race on the Marine Lake at Southport. While that started in glorious weather with a light breeze and great sunshine, the team did not maintain its potential placing when the wind died away in the evening but we did finish a credible 33rd out of 82 entrants.
There were only a few boats out to race at the Lake where the wind certainly varied much in strength and direction. Once again Nick Brook led the way for the Solos, while Mike Butler, with Andrew Hilton, in a GP14 led all the races until overtaken in the second one in the later stages.
Merlin Rocket:
All Races: 1. M & R Watts
GP14:
Race 1: 1. M.Butler/A Hilton 2. O Whitehead/A Janiecki
Race 2: 1. O Whitehead/A Janiecki 2. M Butler/A Hilton 3. G Knox/M Ahmad
Race 3: 1. M Butler/A Hilton 2.G Knox/A Janiecki
Solo:
Races 1 & 2: 1. N Brook 2. N Davey 3. J Walker
Race 3. 1. N Brook 2. M Fitzpatrick
RS Feva:
All Races: 1. E & Z Parry
———————————————-
Sunday 11th September
Conditions for racing at the Lake on Sunday were glorious with sunshine and a south westerly breeze. The breeze, however, proved too strong for some sailors and there were a couple of capsizes in the Solos. While Martin Brennan sailed consistently in a Solo, he could not hold back Nick Brook, particularly in Race 3, when he had the early lead. The 2 Merlin Rockets raced very closely in all the races, flying downwind with their spinnakers.
Merlin Rocket-
Races 1 & 3: 1.L Bithell/J MacNeil 2.B Mager/C Jowett
Race 2: 1.B Mager/C Jowett 2.L Bithell/J MacNeil
GP14-
Race 1: 1.M Butler/S Caladine 2.G Knox/A Haywood-Singh
Races 2 & 3: 1.M Butler/S Caladine 2.A Carter/A Haywood-Singh
Solo-
Race 1: 1.N Davey 2.M Brennan 3.N Brook
Race 2: 1.N Brook 2.M Brennan 3.N Davey
Race 3: 1.N Brook 2.M Brennan
————————————————-
Wednesday 7th September
It was good to see that 16 boats set out for the final Wednesday race of the year. It was a sunny evening with a light southerly wind. For one reason or another, a line start was used and it was the GP14s who led the way rounding the first mark! But 2 Merlins soon got ahead and then the wind eased away to a light air and the race was shortened during the second lap.
Merlin Rocket-
1.G Winder/T Murphy 2.T Daniel/O Whitehead 3.G Whitehead/A Janiecki
GP14-
1.M Butler/S Caladine 2.M Brennan/S Miles 3.G Knox/A Haywood-Singh
Solo-
1.G Booth 2.A Wake 3.R Simpson
Laser-
1.R Whitehill 2.C Bower 3.J Higgins
————————————————-
Sunday 4th September
Nick Brook in his Solo had the most consistent racing results despite winds that gave strong gusts which 'headed or lifted'. This can equate to snakes and ladders on the board game. On this occasion the usually wind aware Martin Brennan could not do better than second. The Merlin Rockets had the closest racing where Nick Heginbotham, and daughter Lucy, returning from holiday, had the best day. One boat, remaining anonymous, capsized when well placed.
Merlin Rocket-
Race 1: 1.T Daniel/A Hilton 2.N & L Heginbotham 3.G Winder/T Murphy
Race 2: 1.N & L Heginbotham 2.G Winder/T Murphy 3.T Daniel/A Hilton
Race 3: 1.N & L Heginbotham 2.T Daniel/A Hilton 3.G Winder/T Murphy
GP14-
Race 1: 1.C Knott/R Long 2.G Knox/A Haywood-Singh 3.L Burns/R Hodgson
Race 2: 1.C Knott/R Long 2.G Knox/A Haywood-Singh
Solo-
Races 1 & 3: 1.N Brook 2.M Brennan 3.D Smith
Race 2: 1.N Brook 2.M Brennan 3.R Blackburn
RS Feva-
All Races: 1.E & Z Parry
————————————————-
For previous race reports please see Sailing News – 2016 News or click here 2016 News