HLSC welcomes complete beginners to experienced sailors. Dinghy sailing takes place on a 117 acre reservoir set in the foothills of the Pennines in Littleborough near Rochdale and is easily accessible; just 10 minutes from the M62, junction 21.
HLSC is run by its members for its members with a great family atmosphere, has good fleet racing, is committed to training & developing sailing skills and is an accredited RYA Training Centre.
Click here to

keep up to date with all our latest postings and then 'Like' our Facebook page.
Having completed a major clubhouse upgrade, HLSC now has modern and smart facilities thanks to generous support from the Sport England Inspired Facilities fund and a number of our club members.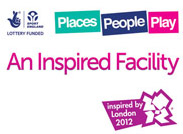 ———————————————-
Solo Open Meeting Report and Results
The Club's Solo Open, which was held on Saturday 9th July, concludes a very busy two weeks which have included 70th Anniversary celebrations, NW Senior Travellers event and some RYA training as well as regular club racing.
The forecast rain did not deter 16 sailors, including one from Scotland, who arrived at the start line.  One absentee was Steve Denison who had won the Club's Founders Plate racing the week before and the Solo Northern Championship a fortnight ago.  Innes Armstrong, who is a past winner, got a good port end start and established a clear lead over the fleet. However, some had suffered from a messy start including Oliver Whitehead and Jack Hopkins who had to return and restart.  Whitehead meanwhile was left in 'irons'.  From that position, Hopkins had to struggle to make progress in the competitive fleet.  Andy McKee, Scorpion Champion, had borrowed a Solo and had a good enough start to hunt down Armstrong.  In a tacking duel, McKee managed to gain the advantage on the line, with Lee Tennant in third place.
After the lunch break, two races were sailed back-to-back.  This time, Hopkins made no mistake and got clear away into a lead that he held to the finish, as there were few opportunities in the south west wind to pass.  Steve Graham gave chase to hold second spot from club team-mate Armstrong, who was at his consistent best.
In the third race, Hopkins again started well to lead at the first mark, which was closely contested.  He was able to hold this lead to the finish and win the event, while Adam Savage rounded second, also held to the finish, despite close chasing from Chris Massey of the host club.  Steve Graham managed to get to 4th place after gaining the advantage in an incident between Armstrong and Whitehead, and clinch 3rd place overall.  Armstrong's steady sailing gave him the runner-up spot.
Here are the full results: 2016 Solo Open results
 ———————————————-
Fancy having a go?

If you want to find out what sailing is all about then the perfect way is to arrange to come along to the club and go out on the water with one of our club members for a Taster Session (which normally lasts for about 1½ hours) for which there is a charge of £15.
If you wish to arrange to come for a Taster Session please e-mail your contact details (ideally including your mobile phone number) off to us at training@hlsc.org.uk.  We normally arrange for these taster sessions to be held on Friday evenings or, possibly, on Sunday mornings.  If you are contacting us about having a taster session then letting us know your most suitable dates would greatly assist us.
We run two Introduction To Sailing courses per year and the first of these courses has already been completed and the second course is now fully booked and underway.  However if, following your Taster Session, you feel the need to follow it up with some training sessions then we can arrange for you to go on an RYA Start Sailing course (Level 1).
We can provide you with much more information about this course when you come along for your Taster Session
Please go to the Training at HLSC page of the website for more details.
————————————————-
Latest Sailing News
Our members have been busy representing the club at various events see how they have got on by clicking on the following links:
Merlin Rocket – Salcombe Merlin Week  – http://www.yachtsandyachting.com/news/190900/Sharps-Doom-Bar-Merlin-Rocket-Week-day-6
Laser 4.7 European championships – http://www.laser.org.uk/news/uploaded/4.7_Europeans_2016.pdf–
Solo Nationals – http://www.yachtsandyachting.com/news/191079/Solo-UK-Nationals-at-Plas-Heli-overall
Wednesday 20th July 2016
Conditions remained good for 2 races on another sunny evening. There was some banter among the Solos as Oliver had started late in the first race to give others a sporting chance, as the race was shortened he did not have time to overtake Kevin Parry who got second. While in the next race, Andy Wake came from last to challenge David Hughes for second place. The experience of Roger and John Mee led them to lead the Merlins. The GP14 results showed a reverse for the lead between the 2 races. And that spread to the Lasers with Richard Whitehill winning the second race.
Merlin Rocket-
Races1 & 2: 1.R & J Mee 2.G Whitehead/D Thompson 3. I Laing/J Lewis
GP14-
Race 1: 1.M Brennan/S Miles 2.M Butler/S Caladine 3.N & A Hornsby
Race 2: 1.M Butler/S Caladine 2.M Brennan/S Miles 3.N & A Hornsby
Solo-
Race 1: 1.D Hughes 2.K Parry 3.O Whitehead
Race 2: 1.O Whitehead 2.D Hughes 3.A Wake
Laser-
Race1: 1.G Butler 2.R Whitehill 3.J Maguire
Race 2: 1.R Whitehill 2.G Butler 3.J Maguire
 ————————————————-
Sunday 17th July 2016
Glorious sunshine brightened sailing prospects at the Lake on Sunday. While there was wind, it was varying a lot between south-west and north-west. So it could be rather like snakes and ladders, if you caught the right shifts you gained. Adam McGovern and Ellie Davies always got it right in the GP14s, while behind them, in races 2 & 3, there was close competition and place changing. Martin Brennan, sailing a Solo, has a sharp eye for such conditions and took 3 bullets too. In the second race, Gerald Whitehead (Solo) ran aground on the Cafe point, perhaps hoping to get an ice-cream there!
Merlin Rocket-
Race1: 1.L Bithell/J McNeil 2.G Winder/H Daniel 3.B Mager/C Jowett
Races 2 & 3: 1.L Bithell/J McNeill 2.B Mager/C Jowett 3. G Winder/H Daniel
GP14-
Race 1: 1.A McGovern/E Davies
Race 2: 1.A McGovern/E Davies 2.T Daniel/R Richards 3.P Bramwell/S Caladine
Race 3: 1.A McGovern/E Davies 2.P Bramwell/S Caladine 3. O Whitehead/E Turner
Solo-
Race 1:1.M Brennan 2.K Parry 3.G Whitehead
Race 2:1.M Brennan 2.K Parry
Race 3:1.M Brennan 2.G Whitehead
 ————————————————-
For previous race reports please see Sailing News – 2016 News or click here 2016 News