HLSC welcomes complete beginners to experienced sailors. Dinghy sailing takes place on a 117 acre reservoir set in the foothills of the Pennines in Littleborough near Rochdale and is easily accessible; just 7 minutes from the M62, junction 21.
HLSC is run by its members for its members with a great family atmosphere, has good fleet racing, is committed to training & developing sailing skills and is an accredited RYA Training Centre.
Click here to

keep up to date with all our latest postings and then 'Like' our Facebook page.
———————————————-
70th Annual General Meeting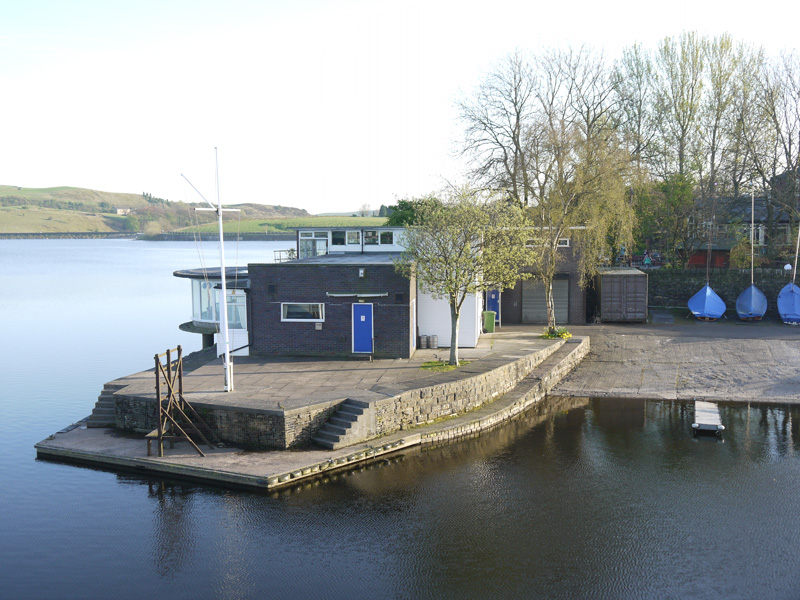 Notice is hereby given of the 70th Annual General Meeting to be held in the Clubhouse on Wednesday 14th December 2016 at 8.00pm.
At the Annual General Meeting it is proposed by your Management Committee to change some of the wording to Rule 6.
The paragraph in Rule 6 regarding Junior Members currently reads as follows:
JUNIOR MEMBER – being a person who, at the date of election, is under the age of sixteen but over the age of five. They shall NOT have a vote.
It is proposed that we change the wording of this paragraph to read as follows:
JUNIOR MEMBER – being a person who, at the date of election, is aged eight or over but under the age of sixteen. They shall NOT have a vote.
This proposed rule change has been triggered by HMRC's new Community Amateur Sports Clubs Regulations which require at least 50% of a CASC's members to 'participate' in the sporting activities of the club. As the minimum age for joining our Junior training courses is eight it is therefore appropriate that a child's 8th birthday would be the time to formally join the club. Children under 8 would continue to be most welcome at the club but they would be 'free' as technically they are not members so that they don't distort our participation percentages for the CASC Regulations.
 

———————————————-
 Latest Sailing News
Sunday 20th November – The calm after a hectic night
It was surprisingly calm again for sailing and some may have still been recovering from our excellent and well attended Dinner Dance and Annual Prizegiving the night before. The light air was a cold northerly which shifted from the east to the west and lasted just long enough for two races. It was mainly the stalwarts who turned out to race though Chris Massey took a novice out in a GP14 and took the lead. Richard Whitworth was up from the south for the Dinner Dance and borrowed a Solo, but was unable to break Martin Brennan's lead. The two Merlin Rockets challenged each other and took turns with the wins.
Merlin Rocket:
Race 1: 1.S Crook/S Townend 2.L Bithell/J MacNeill
Race 2: 1.L Bithell/J MacNeill 2.S Crook/S Townend
GP14:
Race 1: 1.C Massey/S Garner 2.G Knox/A Haywood-Singh 3.M Butler/S Caladine
Race 2: 1.C Massey/S Garner 2.M Butler/S Caladine 3.G Knox/A Haywood-Singh
Solo:
Race 1: 1.M Brennan 2.R Whitworth
Race 2: 1.M Brennan 2.R Whitworth 3.E Parry
———————————————-
Sunday 13th November
The calm of Sunday delivered just enough wind for the usual three races. At least the westerly direction stayed the same. The five GP14s were joined for the first race by a lone Mirror. Martin Brennan and Steve Caladine led the first race but were challenged closely by Adam McGovern and Ste Mason who, on the final leg looked in a better airstream but could not manage to get ahead. In the other two races, Colin Knott and Richard Long showed the way round by taking a different line on the downwind legs, while Martin Brennan's usual ability to 'snuff out' the best way failed on this occasion.
GP14:
Race 1: 1.M Brennan/S Caladine 2.A McGovern/S Mason 3.C Knott/R Long
Races 2 & 3: 1.C Knott/R Long 2.A McGovern/S Mason 3.M Brennan/S Caladine
Mirror:
Race 1:1.J Mellor
———————————————-
Sunday 6th November 
Five GP14s prepared to race at the Lake on Sunday, until wind conditions worsened. The strong north west wind was blustery as three boats were on the start line, joined by young Evan Parry and sister Zoe in a RS Feva. In the race, the Feva capsized and two of the GP14s decided it was too much and retired, leaving Tom Daniel at the helm with Steve Caladine to win. The wind subsequently eased for two more races and, with a change of helms, Martin Brennan and Richard Long led the way.
GP14:
Race 1: 1.T Daniel/S Caladine
Race 2: 1.M Brennan/R Long 2.T Daniel/S Caladine 3.R Mason/R Din
Race 3: 1.M Brennan/R Long 2.T Daniel/S Caladine
———————————————-
Sunday 30th October – Testy light wind conditions 
Last Sunday the skills of sailors were tested in light weather conditions. This was a great contrast with the week before, when an easterly wind blew strongly and there was a reluctance to leave the harbour. However the light wind only lasted long enough for two races to be sailed as the Lake took on a glassy appearance after 3pm. The 7 Merlin Rockets had close racing, led in the first race by Julian Parry and son Evan. They switched roles in the second race and it looked as if Evan would helm the boat to a third place, but they were denied that result on the line. Although Steve Crook and Sally Townend had the best results overall, there was quite a difference between the two races. Ste Mason and Adam McGovern raced with the Merlins in a RS400 and showed the way round in the second race.
Seven of the Club's junior sailors have been competing in a 10 event series around the North West where there have been 97 participants. Best results came from Adam Din finishing 4th overall, just ahead of Will Smith 5th and William Rowland in 7th place.
Merlin Rocket:
Race 1: 1.J & E Parry 2.S Crook/S Townend 3.T Daniel/A Hilton
Race 2: 1.B Mager/C Jowett 2.G Winder/H Daniel 3.S Crook/S Townend
GP14:
Races 1 & 2: 1.G Knox/C Bower 2.R Mason/N Thomason
Solo:
Race 1: 1.M Brennan 2.G Booth 3.J Walker
Race 2: 1.M Brennan 2.G Booth 3.D Hughes
———————————————-
Sunday 23 October 2016
The North Easterly direction delivered a strong wind on the lake today with the GP14 fleet the only boats to take to the water. The decision was made to postpone the Autumn Pursuit race however the GP14s took advantage of the wind and enjoyed a great race, well done to Chris Massey and Tom Daniels who took the race win.
———————————————-
Sunday 16 October 2016
The three races at the Lake on Sunday, after the rain had cleared, produced consistent results in each of the fleets. The first race was sailed in a quite gusty southerly wind where some sailors refrained from setting spinnakers. After that, the day settled and there was closer racing from the start. Nick Brook relished the conditions in a Solo and Bruce Mager with Craig Jowett had no problem in keeping ahead in his Merlin Rocket. In a change of place, Martin Brennan crewed for Colin Knott in a GP14 and kept their boat in the lead.
Merlin Rocket
All Races: 1.B Mager/C Jowett 2.I Laing/J Lewis
GP14:
All Races: 1.C Knott/M Brennan 2.G Knox/A Haywood/Singh 3.R Mason/N Thomason
Solo:
All Races: 1.N Brook 2.D Smith
Laser:
All Races: 1.W Smith
RS Feva:
Races 2 & 3: 1.E & Z Parry
For previous race reports please see Sailing News – 2016 News or click here 2016 News