If you decide that you would like to sail outside our normal club racing times (i.e. when there are no club patrol boats on the water) it is important that you are comfortable with the prevailing weather conditions and that you and your crew are fit for those conditions and competent to sail in them.  If someone has very little experience we would strongly recommend that their sailing takes place when the safety cover is there.
So, if you consider that you may need safety cover outside our normal club racing hours, it would be prudent of you to purchase a Day or Season Permit from HOLWAC.  Please see their website for all the details and prices: http://www.link4life.org/centres/hollingworth-lake-activity-centre/prices
Our rotas
Members who are on our various rotas should arrange an exchange if they are unable to be present on the day/days assigned and enter the details on the relevant duty rota.  The various rotas are displayed in the Clubhouse.
If you are swapping your Officer Of The Day or Duty Team dates, please can you also inform our Sailing Secretary (Nick Hornsby) of the change.
Our club events
To view all the details of our club events and duty rotas please go to the Calendar page i.e. click on 'Calendar' in the dropdown menu which is in the blue banner at the top of the page. 

By default you will view the Month layout but there are three other layouts namely List, Week and Day.  The Month view is fine for an overview and you can pick up on the details of any event by either tapping on or hovering your mouse over that particular event.

Please also have a look at the List view and the Week view.  Both clearly show you not only the timings and all the relevant information about our various events but also the names of those members who are 'on duty' i.e. Officer Of The Day (OOD), Duty Team, Starters Box, Galley, Bar and Keys.
Here is what a typical List view looks like, followed by a typical Week view and finally a typical Month view: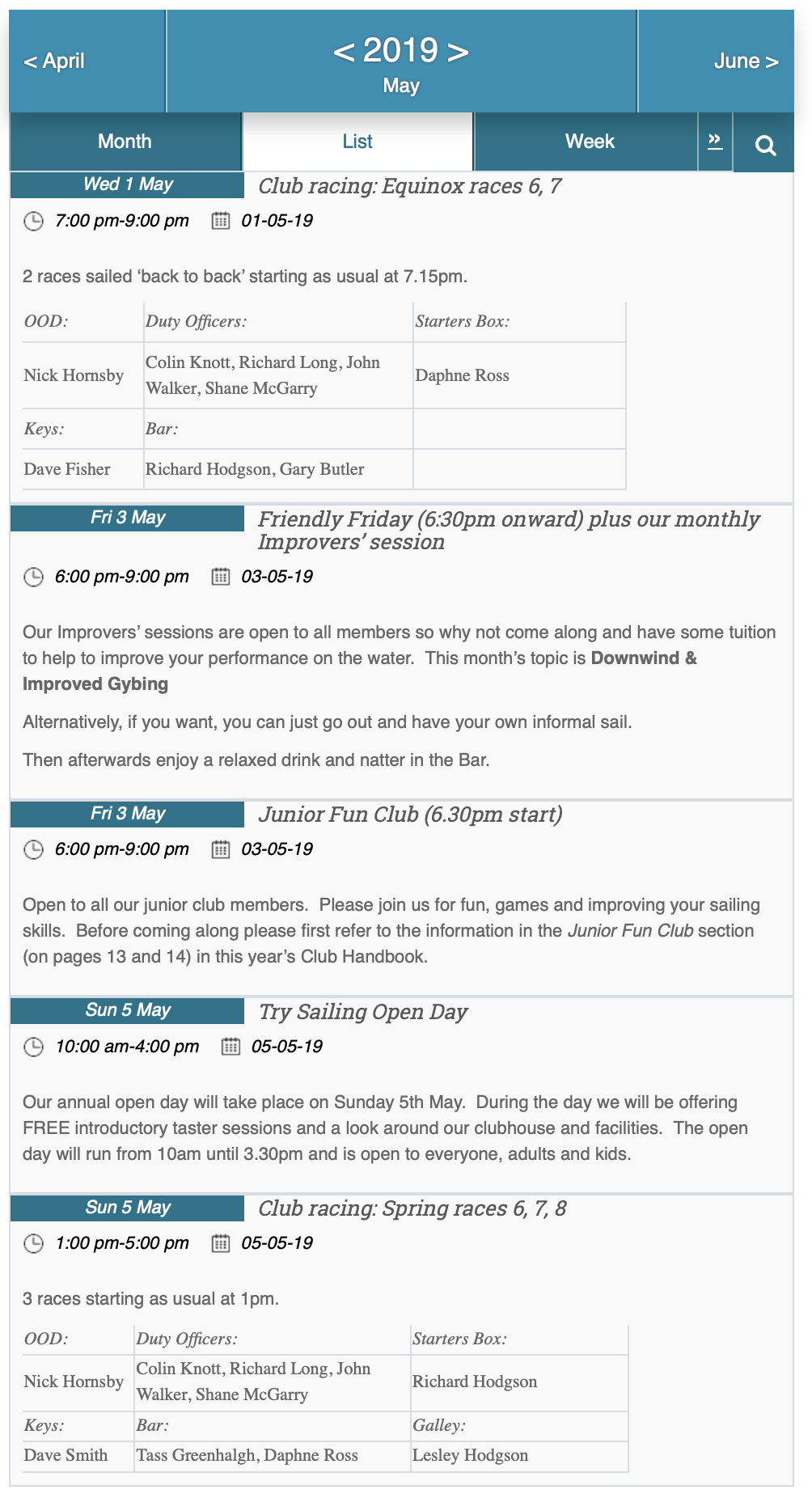 and this is a typical Week view:

and finally this is a typical Month view: