News about our HLSC club members representing the club 
Our members have been busy representing the club at various events.  See how they have got on by clicking on the following links:
 Endeavour Trophy was raced at Burnham-on-Crouch. Second overall in this Champion of Champions races was Matt Mee. http://royalcorinthian.co.uk/story/2001023/endeavour-trophy-2016-final-day
Merlin Rocket – Salcombe Merlin Week  – http://www.yachtsandyachting.com/news/190900/Sharps-Doom-Bar-Merlin-Rocket-Week-day-6
Laser 4.7 European Championship – http://www.laser.org.uk/news/uploaded/4.7_Europeans_2016.pdf–
Solo National Championship – http://www.yachtsandyachting.com/news/191079/Solo-UK-Nationals-at-Plas-Heli-overall
National Schools Sailing Association  Youth Regatta – Laser 4.7 –https://nssa.org.uk/files/GorlestonResults/Laser47.htm
Abersoch Dinghy Week  – For the results go to  http://www.scyc.co.uk/Racing-Results/index.php and then click on 'VERY LATEST RESULTS CLICK HERE!' (in red) at the top of the page.  Well done to Nick and Lucy Heginbotham for winning the Fast Mixed Dinghies.
Scorpion National Championship – http://www.yachtsandyachting.com/news/191417/Gul-Scorpion-Nationals-at-Looe-overall  Dovestone's Andy McKee with Chris Massey as crew 'enjoyed' a week of close racing finishing up third overall and just one point behind the winning boat.  That's what you call a 'hard week's sailing'.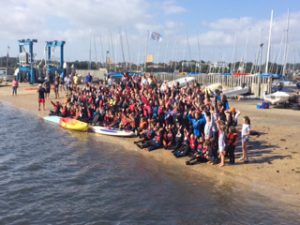 Parkstone Youth Week – Evan and Zoe Parry took part in Parkstone Youth week with over 300 youths. Evan winning the 4.7 Laser fleet.