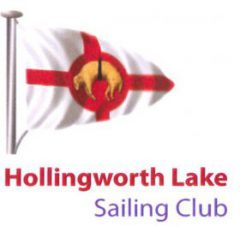 HLSC welcomes complete beginners to experienced sailors. Dinghy sailing takes place on a 117 acre reservoir set in the foothills of the Pennines in Littleborough near Rochdale and is easily accessible; just 7 minutes from the M62, junction 21.
HLSC is run by its members for its members with a great family atmosphere, has good fleet racing, is committed to training & developing sailing skills and is an accredited RYA Training Centre.
Click here to

keep up to date with all our latest postings and then 'Like' our Facebook page.
 ——————————————–
More opportunities now we have opened up our club racing
Our club racing programme started back at the beginning of March and we sail all the way through to mid-December.
For 2017 we have made some key changes to our club racing programme.  The main one being that we have adopted handicap racing and so we are now sailing a variety of classes in open handicap racing.

Enthusiastic dinghy racers, whether you own a single or double handed boat, can readily join our club racing as we race in a variety of different classes, in open handicap racing.
We use the well-established handicap system (the RYA Portsmouth Yardstick [PY]), which enables boats of different types to race against one another, then any dinghy with a PY between that of an Optimist and an RS400 can be raced.  However, we would you encourage you to consider sailing in one of the classes that we currently race, especially if you are new to the sport.  These are boats which are especially suitable for our lake and are capable of being sailed well to their handicaps.  Prizes are also awarded to the winners of various series in the classes that we currently race as their results are awarded both in the handicap races as well as by individual class.
The club has always enjoyed some excellent open water sailing on its 117 acre reservoir set in the foothills of the Pennines and it also has a good reputation for organising decent club racing.

Now we have opened up our club racing to all classes then why now come along and give it a try?  For more information please contact us on membership@hlsc.org.uk.
If you want to find out more about the main boats that we currently race i.e. the classes which we know have a proven pedigree on Hollingworth Lake, please click here.
——————————————–
Race Report by Graham Knox: Wednesday, 16th August 2017
16 boats started on a crowded line into a south-westerly wind. Chris Massey (RS300) was quickly into a lead which he never relinquished over the 4 lap race. The wind strength remained good though a couple of junior sailors in Toppers found it rather too strong. On the other hand, taking the helm of MR3615, Steve Crook and Jane Clayton easily kept ahead of the other Merlins. There was closer racing between the 3 GP14s where Adam McGovern and Steve Mason kept control over Martin Brennan and Steve Caladine plus Andy Carter with Dave Fisher. Richard Marsh, sailing with Rhiann Bramwell (RS200) was unable to break through the Merlins so ended fifth on corrected time. Evan Parry continues to show that he can hold his own in this competition with a 6th place result. The finish was particularly close in corrected time terms with 6 boats within 50 seconds!
Here are the updated results of the Wednesday Series after 16th August (i.e. after 30 races sailed):
Race Report by Graham Knox: Sunday 13th August 2017
14 boats took to the water in what was a light and shifty south westerly breeze which, quite often, kept dropping away. Will Smith kept his Laser moving in Race 1 to win the race and then Martin Brennan & Steve Caladine in a GP14 won Race 2. The majority of the fleet called it quits after that, but the light breeze didn't deter 9 year old Jasper Bramwell going out and winning Race 3 in his Topper 4.2. Well done Jasper for winning your first club shield.
Here are the updated results of the Summer Series after 20th August (i.e. after 24 races sailed):
 For previous race reports please see Sailing News – 2017 Sailing News or click here 2017 
To see all the club's racing results and trophy winners please see Members Area – Sailing Results or click here results
 

——————————————–