HLSC welcomes complete beginners to experienced sailors. Dinghy sailing takes place on a 117 acre reservoir set in the foothills of the Pennines in Littleborough near Rochdale and is easily accessible; just 10 minutes from the M62, junction 21.
HLSC is run by its members for its members with a great family atmosphere, has good fleet racing, is committed to training & developing sailing skills and is an accredited RYA Training Centre.
Click here to

keep up to date with all our latest postings and then 'Like' our Facebook page.
Having completed a major clubhouse upgrade, HLSC now has modern and smart facilities thanks to generous support from the Sport England Inspired Facilities fund and a number of our club members.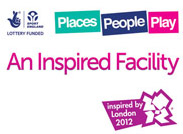 ———————————————-
Merlin Rocket Open Meeting – Saturday 8th & Sunday 9th October 

It's not just the Merlin Rocket fleet that is celebrating its 70th anniversary this year, so is Hollingworth Lake Sailing Club.  So why not come along to our Open Meeting (for the Felucca Trophy) on Saturday 8th & Sunday 9th October, celebrate our 70 years of sailing and enjoy the northern hospitality for which Hollingworth has become famous for over the years.
The event is planned to be a five race series, with the first race on Saturday not before 14.00 hrs and the first race on Sunday is planned to start at 11.00am.  Only races sailed on Sunday will count towards the Silver Tiller Series, with one discard if three races are sailed.  If two are sailed then both will count.
For all the details about this event please download the attached Merlin Rocket Open Meeting 2016 – Notice of Race
For those requiring overnight accommodation / camping facilities, please click here to go to the Visit Rochdale website.
However if you want any further information now, please contact us at info@hlsc.org.uk
———————————————-
News about our HLSC club members representing the club 
Our members have been busy representing the club at various events.  See how they have got on by clicking on the following links:
Merlin Rocket – Salcombe Merlin Week  – http://www.yachtsandyachting.com/news/190900/Sharps-Doom-Bar-Merlin-Rocket-Week-day-6
Laser 4.7 European Championship – http://www.laser.org.uk/news/uploaded/4.7_Europeans_2016.pdf–
Solo National Championship – http://www.yachtsandyachting.com/news/191079/Solo-UK-Nationals-at-Plas-Heli-overall
National Schools Sailing Association  Youth Regatta – Laser 4.7 –https://nssa.org.uk/files/GorlestonResults/Laser47.htm
Abersoch Dinghy Week  – For the results go to  http://www.scyc.co.uk/Racing-Results/index.php and then click on 'VERY LATEST RESULTS CLICK HERE!' (in red) at the top of the page.  Well done to Nick and Lucy Heginbotham for winning the Fast Mixed Dinghies.
Scorpion National Championship – http://www.yachtsandyachting.com/news/191417/Gul-Scorpion-Nationals-at-Looe-overall  Dovestone's Andy McKee with Chris Massey as crew 'enjoyed' a week of close racing finishing up third overall and just one point behind the winning boat.  That's what you call a 'hard week's sailing'.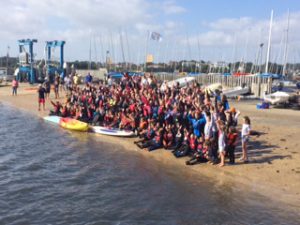 Parkstone Youth Week – Evan and Zoe Parry took part in Parkstone Youth week with over 300 youths. Evan winning the 4.7 Laser fleet.
———————————————-
 Latest Sailing News
Sunday 11th September
Conditions for racing at the Lake on Sunday were glorious with sunshine and a south westerly breeze. The breeze, however, proved too strong for some sailors and there were a couple of capsizes in the Solos. While Martin Brennan sailed consistently in a Solo, he could not hold back Nick Brook, particularly in Race 3, when he had the early lead. The 2 Merlin Rockets raced very closely in all the races, flying downwind with their spinnakers.
Merlin Rocket-
Races 1 & 3: 1.L Bithell/J MacNeil 2.B Mager/C Jowett
Race 2: 1.B Mager/C Jowett 2.L Bithell/J MacNeil
GP14-
Race 1: 1.M Butler/S Caladine 2.G Knox/A Haywood-Singh
Races 2 & 3: 1.M Butler/S Caladine 2.A Carter/A Haywood-Singh
Solo-
Race 1: 1.N Davey 2.M Brennan 3.N Brook
Race 2: 1.N Brook 2.M Brennan 3.N Davey
Race 3: 1.N Brook 2.M Brennan
————————————————-
Wednesday 7th September
It was good to see that 16 boats set out for the final Wednesday race of the year. It was a sunny evening with a light southerly wind. For one reason or another, a line start was used and it was the GP14s who led the way rounding the first mark! But 2 Merlins soon got ahead and then the wind eased away to a light air and the race was shortened during the second lap.
Merlin Rocket-
1.G Winder/T Murphy 2.T Daniel/O Whitehead 3.G Whitehead/A Janiecki
GP14-
1.M Butler/S Caladine 2.M Brennan/S Miles 3.G Knox/A Haywood-Singh
Solo-
1.G Booth 2.A Wake 3.R Simpson
Laser-
1.R Whitehill 2.C Bower 3.J Higgins
————————————————-
Sunday 4th September
Nick Brook in his Solo had the most consistent racing results despite winds that gave strong gusts which 'headed or lifted'. This can equate to snakes and ladders on the board game. On this occasion the usually wind aware Martin Brennan could not do better than second. The Merlin Rockets had the closest racing where Nick Heginbotham, and daughter Lucy, returning from holiday, had the best day. One boat, remaining anonymous, capsized when well placed.
Merlin Rocket-
Race 1: 1.T Daniel/A Hilton 2.N & L Heginbotham 3.G Winder/T Murphy
Race 2: 1.N & L Heginbotham 2.G Winder/T Murphy 3.T Daniel/A Hilton
Race 3: 1.N & L Heginbotham 2.T Daniel/A Hilton 3.G Winder/T Murphy
GP14-
Race 1: 1.C Knott/R Long 2.G Knox/A Haywood-Singh 3.L Burns/R Hodgson
Race 2: 1.C Knott/R Long 2.G Knox/A Haywood-Singh
Solo-
Races 1 & 3: 1.N Brook 2.M Brennan 3.D Smith
Race 2: 1.N Brook 2.M Brennan 3.R Blackburn
RS Feva-
All Races: 1.E & Z Parry
————————————————-
Wednesday 31st August
There was a good turnout for the penultimate Wednesday evening race. So it was a somewhat crowded start line which led to a few being called back. There was little doubt about the best place to start and, in a moderate F2 westerly, most Merlins raced away though Chris Massey (Solo) kept up with them early on. In the end, Steve Crook, with guest crew Tom Daniel, were far ahead, while Roger and John Mee kept ahead of Les Bithell and Jan MacNeil. Adam and Tim McGovern were off to the lead in the GP14s but were caught and overhauled by Martin Brennan and Sophia Miles. As Gary Butler was late starting, Richard Whitehill seized the opportunity to lead the Lasers (and luffed Ron Simpson, in his Solo, far to windward between H and C). Near the finish, 2 Lasers ran aground off cafe point (names withheld!).
Merlin Rocket-
1.S Crook/T Daniel 2.R & J Mee 3.L Bithell/J MacNeil
GP14-
1.M Brennan/S Miles 2.A & T McGovern 3.G Knox/A Haywood-Singh
Solo-
1.C Massey 2.R Simpson 3.A Wake
Laser-
1.R Whitehill 2.J Maguire 3.G Butler
————————————————-
Sunday 28th August
As luck would have it, the essential element of wind was missing for sailors on Sunday. In a light air, 8 boats set out to race but before the first lap was completed the wind evaporated and 3 boats only finished a shortened course, while others paddled their way in. With the lake taking on a glassy appearance, racing was abandoned for the day, though some wind filled in much later.
Race 1: 1.Solo, M Brennan 2. MR, L Bithell/J MacNeil 3.MR, T Daniel/O Whitehead
————————————————-
Wednesday, 24th August
It was probably inevitable that there would be a calm Wednesday evening before the end of the season and the Lake was mirror-like on arrival. However a very light northerly air stream developed and racing went ahead. Mike Smith and Andy Wake were off in the Solos, leaving Rod Daniel behind. Mike Butler and Steve Caladine were ready and away to a flying start in the GP14s, challenged in the later stages by Martin Brennan and Sophia Miles, light wind experts, but held the lead to the finish. The Merlins do well in such light airs and Steve Crook and Sally Townend even showed speed round the course, though Martin and Rene Watts were not far behind. Roger and John Mee caught up for third place, out of the five racing.
Merlin Rocket-
1.S Crook/S Townend 2.M & R Watts 3.R & J Mee
GP14-
1.M Butler/S Caladine 2.M Brennan/S Miles 3.J Mellor/R Hodgson
Solo-
1.M Smith 2.A Wake
————————————————-
Sunday 21st August
The Sailing Club on Sunday reacted to the 'Olympic bounce' with several people asking to have a taster session, as with other sports. The afternoon saw the usual suspects taking the lead in the handicap races where the results were consistent. Chris Massey was in best form winning in a Solo, followed by Martin Brennan, also Solo, while Tom Daniel and Andy Hilton in a Merlin Rocket, always leading the pack, took third place.
Results:-
All Races: 1.Solo, C Massey 2.Solo, M Brennan 3.MR, T Daniel/A Hilton
————————————————-
Wednesday, 17th August
Conditions for racing on Wednesday evenings this season have generally been excellent and this evening was no exception. With a wind blowing into the harbour, the only problem was launching and sailing out. Indeed the wind built up as the evening progressed. The lone Solo was off and away, next came the 5 GP14s with a close race at the first mark. The long run back, under spinnaker, saw Martin Brennan and Steve Caladine ahead of Graham Knox and Alisha Haywood-Singh, behind there was some jostling for places. However the lead never changed. Roger and John Mee were challenging in the Merlins but could not hold the lead as Guy Winder and Tom Murphy on top form romped away. Meanwhile Chris Massey and Oliver Whitehead enjoyed racing into a secure second place. The 3 Lasers were led, as usual, by Gary Butler with Tom Daniel showing the range of his skills.
Merlin Rocket-
1.G Winder/T Murphy 2.C Massey/O Whitehead 3.R & J Mee
GP14-
1.Brennan/S Caladine 2.G Knox.A Haywood-Singh 3.J Mellor/R Hodgson
Solo-
1.R Simpson
Laser-
1.G Butler 2.T Daniel 3.J Maguire
————————————————-
Sunday,14th August
It looked as if Tom Daniel and Oliver Whitehead, sailing a Merlin Rocket, would be the obvious winners racing on Sunday. Whilst they quickly gained the lead, when the handicap was applied, they were only far enough ahead in the third race to win, when they did not have such a good start! The wind was patchy and generally from the north. In such conditions, Martin Brennan in a Solo could 'sniff out' the way to lead in the first 2 races and do well also in the third. Also finding the best way in the first race were Pete Bramwell and Steve Caladine in a GP14.
Results:-
Race 1: 1.Solo, M Brennan 2.GP14, P Bramwell/S Caladine 3.MR, T Daniel/O Whitehead
Race 2: 1.Solo, M Brennan 2.Solo, G Booth 3.Laser, W Smith
Race 3: 1.MR, T Daniel/O Whitehead 2.Solo, M Brennan 3.MR, G Winder/T Murphy
————————————————-
Wednesday 10th August:
Despite drizzle, there were 14 boats out as the wind freshened from the south west. In the thick cloud it was decided to sail one race only. Oliver Whitehead quickly raced off in the Solos ahead of Andy Wake. Meanwhile the 6 GP14s raced closely at first until Martin Brennan and Sophia Miles sprinted away, followed by Ste Mason with Adam McGovern crewing. On the second lap, Graham Knox and Alisha Haywood Singh pulled through to fourth place closing on Nick Hornsby with Steve Caladine at the last mark. In the Merlins, Tom Daniel and Tom Murphy gave strong chase to Steve Crook and Sally Townend.
Merlin Rocket-
1.S Crook/S Townend 2.T Daniel/T Murphy 3.L Bithell/J MacNeil
GP14-
1.Brennan/S Miles 2.S Mason/A McGovern 3.N Hornsby/S Caladine
Solo-
1.O Whitehead 2. A Wake
Laser-
1.G Butler 2.J Maguire
————————————————-
Sunday 7th August
With many away on holiday and the forecast of strong winds, there were few sailors out on Sunday. Adam McGovern with Steve Mason were well able to compete successfully in a GP14, winning against the Solos, where the results were shared between Oliver Whitehead and Nick Brook. During this month, results will be based on handicaps.
Race 1: 1.Merlin Rocket, T. Daniel/A Hilton 2.GP14, A McGovern/S Mason 3.Solo, M Brennan
Race 2: 1.GP14, A McGovern/S Mason 2.Solo, O Whitehead 3.Solo, N Brook
Race 3: 1.GP14, A McGovern/S Mason 2.Solo, N Brook 3.Solo, O Whitehead
————————————————-
Wednesday 3rd August:
On Wednesday evening sailors we met by unusually windy conditions for this time of year which resulted in a number deciding not to venture out on the water. However a total of 15 boats set out to race but before long quite a few of them were practising their capsize recovery skills. 7 boats displayed good heavy weather racing skills and completed the race. All of the sailors had built up their appetites (let's face it swimming around the lake does make you hungry) which was then satisfied by the Italian supper that had been prepared by Pat Brook. Thanks Pat for another good After Sailing Supper.
Merlin Rocket-
1. S Crook/S Townend
2. T Daniel/A Hilton
GP14-
1. M Brennan/ S Miles
Solo-
1. O Whitehead
2. N Brook
Laser-
1. G Butler
2 R Whitehill
————————————————-
For previous race reports please see Sailing News – 2016 News or click here 2016 News