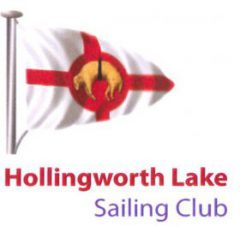 HLSC welcomes complete beginners to experienced sailors. Dinghy sailing takes place on a 117 acre reservoir set in the foothills of the Pennines in Littleborough near Rochdale and is easily accessible; just 7 minutes from the M62, junction 21.
HLSC is run by its members for its members with a great family atmosphere, has good fleet racing, is committed to training & developing sailing skills and is an accredited RYA Training Centre.
Click here to

keep up to date with all our latest posts and then 'Like' our Facebook page.
——————————————–
A Warm Welcome from your new Commodore
Hello, every two years we get a new Commodore at Hollingworth Lake Sailing Club and for 2018 and 2019 it is me, Andy Carter.
Our Club has a proud sailing and social tradition with great organisation from a strong base of voluntary support on a variety of rotas and committees.  I'm pleased to be able to welcome a number of newer members to our committees; in particular Dave Fisher, our new Vice Commodore concentrating on social and catering areas, and Chris Massey our new Sailing Secretary.  Many thanks to Steve Caladine for being Commodore and remaining as Rear Commodore, Training Principal and Membership Secretary.
We are in our winter break from organised sailing until 4th March 2018, but you are still welcome to use the Club facilities.  The Club bar is open every Wednesday at 8pm, 7.30pm for some events.
We have now started a series of bar sports events and, so far, 18 people have signed up for the table football league, all are welcome and it doesn't matter joining in part way through.  Please ring Dave Fisher on 07763 769825 for table football or just turn up on Wednesdays.  Table football rules so far – no spinning, no tilting, put the ball in straight, buy a drink at the bar.  We are also experimenting with a variety of food options prior to the main sailing season, so you should be able to get something to eat most nights.
See you soon.
——————————————–
More opportunities now we have opened up our club racing
Our 2018 club racing programme starts on Sunday 4th March and we sail all the way through to mid-December.
Enthusiastic dinghy racers, whether you own a single or double handed boat, can readily join our club racing as we race in a variety of different classes of dinghy, in open handicap racing.

We use the well-established handicap system (the RYA Portsmouth Yardstick [PY]), to enable boats of different types to race against one another and any dinghy with a PY between that of an Optimist and an RS400 can be raced.
However, especially if you are new to the sport, we would you encourage you to consider sailing in one of the classes that we currently race.  These are boats which are especially suitable for our lake and are capable of being sailed well to their handicaps.  Prizes are also awarded to the winners of various series in the classes that we currently race as their results are awarded both in the handicap races as well as by individual class.
The club has always enjoyed some excellent open water sailing on its 117 acre reservoir set in the foothills of the Pennines and it also has a good reputation for organising decent club racing.

Now we have opened up our club racing to all classes then why now come along and give it a try?  For more information please contact us on membership@hlsc.org.uk.
If you want to find out more about the main boats that we currently race i.e. the classes which we know have a proven pedigree on Hollingworth Lake, please click here.